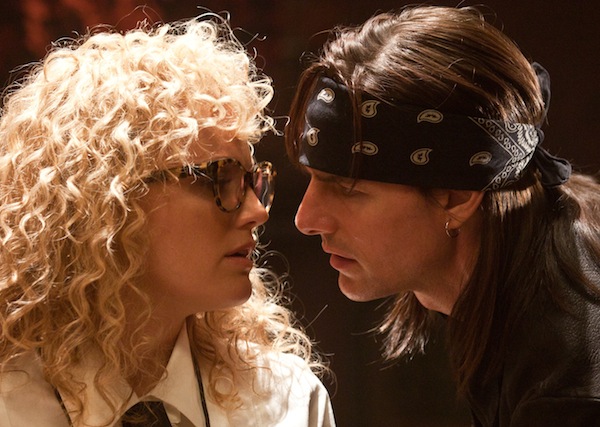 Malin Akerman, Tom Cruise, Rock of Ages, Warner Bros., 2012.
Erupting in an overlong, noxious pop culture mash-up burp, the new filmization of an overrated Broadway musical, Rock of Ages, is a mixed bag, to say the very least. So, okay, the studios are taking the Glee route with saccharine, dumbed down versions of hair band songs considered by most to be cheezy from the get-go. So, okay, we have two boooooring leads, nice looking, nice enough sounding but zero chemistry, zero savoir faire, zero.
Adam Shankman, a middling director who brought us The Pacifier, Cheaper by the Dozen 2, Hairspray, and, oh yeah, numerous episodes of Glee, doesn't quite know what to do with the camera. A better director, like Taylor Hackford or Curtis Hanson, could have done something great with this truly remarkable (for the most part) cast; it would have had to have been harder edged, darker, more true to the era. Not a semi-snoozefest with a few noteworthy sequences.
The songs are all great; their butchery here is cringe-worthy. Some of the script by Justin Theroux (!), Chris D'Arienzo, and Allan Loeb has some good stuff; some witty dialogue and well-rounded side characters. Only it falls victim to the command of structure; its rather a mess.
Tom Cruise shines, stealing every scene he's in with his sharp, attuned turn as superstar Stacee Jaxx. Alec Baldwin, Russell Brand, Catherine Zeta-Jones, Paul Giamatti, Malin Akerman, and Bryan Cranston, are all excellent in key supporting roles, which only magnify the chasm between shoddy script, weak direction, and bland leads. Bojan Bazelli's cinematography recalls his work with Rob Marshal on Chicago. The claustrophobic setting of the club is stagey but interesting. Not adding up to the sum of its parts, on cable it can be truly enjoyed guiltily as bad camp.