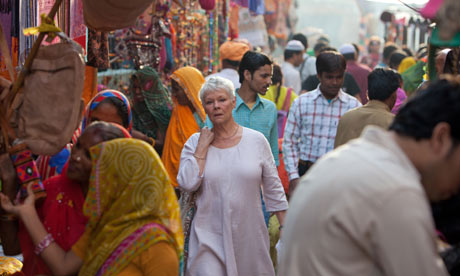 Judi Dench, The Best Exotic Marigold Hotel, Fox Searchlight Pictures, 2012.
Instilling his characters with a dignity and passion which sets this screenplay miles apart from almost anything else in theaters now, director John Madden, working from Ol Parker's excellent adaptation of the novel by Deborah Moggach, creates a feeling, a magic, a connection between audience and characters which is noteworthy.
Essentially a plot done to death, a group of aging, frustrated people come to another country and discover themselves and each other through the beauty and wild freedom of their surroundings. The thing here though is that Madden and Parker, assisted immeasurably by sorcerer cinematographer Ben Davis' saturated palettes, and composer Thomas Newman's lovely themes, collect their characters and images with a focus and intention which stand apart.
Judi Dench, Bill Nighy, Tom Wilkinson, Maggie Smith, Penelope Wilton, Ronald Pickup, and Celia Imrie all are afforded scenes where their characters' fragility and goodness puncture the screen, touching the uncertain audience. Dench is splendid; her eyes moistly glisten all Kate Hepburn dazzler style as she enjoys a second chance while looking back. Tom Wilkinson, as always, locates the soul of his character. Dev Patel's rambunctious rhythm is just right; why is this guy not in leading roles? Maggie Smith affected me the most; her lonely old woman, full of regret and longing, in her wheelchair, is a great character; Smith's hold over her and us is palpably hypnotic.
The locations, sets, and costumes of India are marvelous to behold; basically, its Eat Pray Love with a better pedigree; but that summarization betrays how much loveliness is within. While not an important movie, Madden has made one of the most enjoyable of recent pseudo-indie flicks.