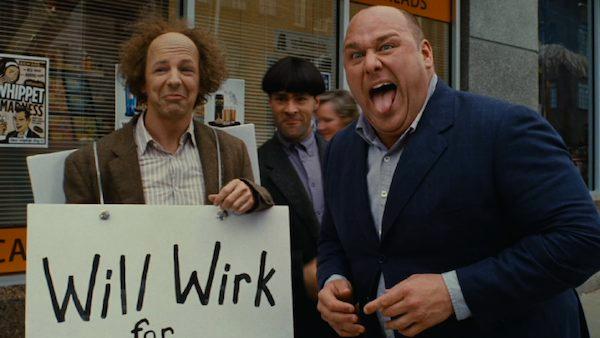 Sean Hayes, Chris Diamantopoulos, Will Sasso, The Three Stooges, 20th Century Fox, 2012.
Cutting their losses and burrowing deep down into the recesses of their childhood memories, America's most interesting comedic auteurs, the Farrelly Brothers, have conquered one of their greatest inspirations; the Three Stooges.
For their impromptu re-envisioning, they have chosen to recreate the Stooges' world in a contemporary mirror-America. Designed as three short films connected by one overarching plot, the narrative structure is simple yet invigorating. The main problem with making this film had to be in finding the right actors; Stoogemaniacs could not, would not tolerate one ounce of sacrilege.
Chris Diamantopoulos, Sean Hayes, and Will Sasso are all heavenly inspirations as Moe, Larry and Curly, respectively. While not dead ringers, they get the physicality, the voices, down to the very nuance. Sasso is especially extraordinary in a performance which borders on genius; his recreation of one of comedy's most legendary figures is a spectacle to be savored, cherished, and shared.
Jane Lynch, Larry David (in bitchy nun drag), Sofia Vergara, Jennifer Hudson, and Brian Doyle Murray round out a cast of expert comedic character actors. The magical, surreal tone of the world the Farrelly's have crafted is semi-sublime. While all of the jokes don't work, this film, as a bizarre piece of nostalgia, does.