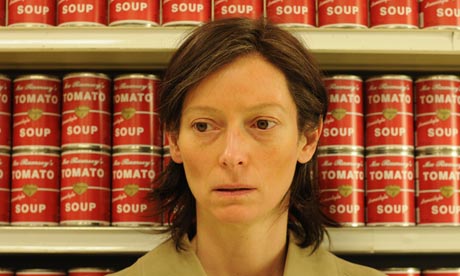 Tilda Swinton, We Need to Talk About Kevin, Oscilloscope Pictures, 2012.
Its been nearly a decade we've been waiting to hear from the irrascibly talented Lynne Ramsay. Her Ratcatcher amd Morvern Callar are two of the more fascinating films on the international film scene in the late-90s to the early '00s. Her gift as an exquisite visual stylist paired with her no-frills depictions of grit and poverty made her a valuable asset on bi-coastal screens.
And so her American debut, the quietly powerful, mouthful titled Kevin opens amid fanfare for arthouse ice-queen Tilda Swinton's turn as a disaffected suburban mother dealing with her son's mass-murder at his high school. Its affects on her and the community are played out in typically elliptical fashion. Thank God for Ramsay's gift for visual rhythms and narrative cadences.
Yet the film feels underwhelming, which really is a compliment when the overall work is as complex as Ramsay's. The fragmentary narrative ends up feeling short shrifted, and the miscasting of Ezra Miller in the tilte role is a near-death blow to the film. He feels too pretty and unbelievable as a teen spree killer. Aside from this, Swinton and John C. Reilly, as her jovial, oblivious husband, are both revelatory.
Swinton's inner turmoils are communicated mesmerically. Her share in the blame for her sociopath son is related in shameful flashback, handled charismatically by Ramsay. Seamus McGarvey's camera is a weapon of retinal destruction, while Johnny Greenwood's score is ambient and building. Ramsay and her co-writer Rory Kinnear divinely construct a puzzle-box screenplay from Lionel Shriver's under-the-radar novel. A couple of scenes stand out as entirely original;
Swinton seeking relief from a screaming infant Kevin beside a construction site, finding solace in the sounds of a jackhammer; and Swinton cowering in her eyes, barraged by ferocious trick-or-treaters attacking her house.
An unsettling vsion of our country from an outsider's perspective, Kevin's loose threads make up a near-miracle.