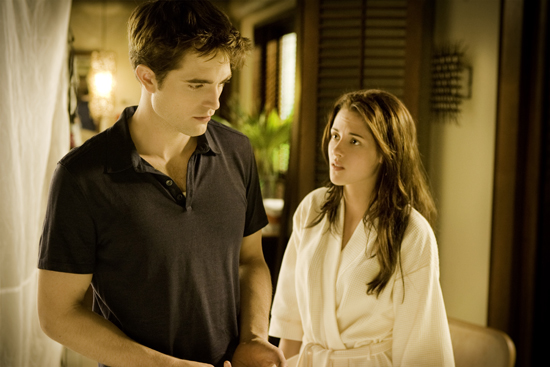 Robert Pattinson, Kristen Stewart, The Twilight Saga: Breaking Dawn, Part 1, Summit Entertainment, 2011.
Is it really so strange that an adolescent girl's fear projected fantasies should mass market and mass media into a frenzy of our times? Not really, its been happening since time immemorial. Angst and lust have combined to create all encroaching pop culture phenomenons at least since the Bible.
Stephanie Meyer's Twilight series is nothing new to the block, in all of its Victorian tragic melodramatic anti-glory. Her simplistic horror-romance series has transformed into heavy cash flow. Luckily for all of us, talented filmmaker Catherine Hardwicke fit Twilight into her troubled teen ouevre, in the footsteps of Thirteen, Lords of Dogtown and The Nativity Story. She nicely gleaned the pain of growing up different and being in love, with an admittedly cheezy horror slant.
The series has only gone downhill from their. Chris Weitz's New Moon was a thudding bore, as the ignoble intricacies of Meyer's hackneyed plot began to insinuate themselves. David Slade fared better with the guilty pleasure rush of Eclipse. But now what? After all that?
Bill Condon seems a bit overqualified for all this vampy tween fluff. Having helmed two excellent biopics, Gods and Monsters (1998) and Kinsey (2004), as well as scripting Rob Marshall's Oscar-winner Chicago (2002), all this , if you'll permit me, hogwash, seems beneath him. And yet, under the circumstances he holds up the continuity of the series rather well. It's not his fault his writer and a lot of his actors are truly wretched.
Overall, the stodgy, drawn out proceedings are well made by Condon and his cinematographer, Guillermo Navarro, who steep the hysterics in Autumnal, Pacific-Northwest visual pastiches. Carter Burwell's score is arguably the best thing about the entire affair, its sweep and deeply felt emotion something these tales could never comprehend. Stewart, Pattinson and Lautner are all actually very good throughout.
In the end, all the brouhaha seems like much ado about nothing, which is fitting with most modern cultural phenomenons. Their flashes in the pan smell like fetid flatulence in hindsight.